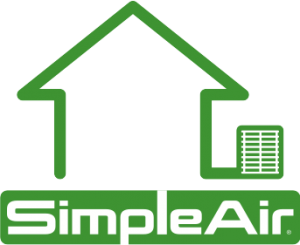 SimpleAir® is an innovative line of professional quality products that allow you to quickly and easily handle most repairs and regular home HVAC maintenance yourself.
ADVANTAGES
SimpleAir® products provide powerful advantages to homeowners by:
• Saving hundreds of dollars annually on professional maintenance service calls
• Providing simple, routine maintenance solutions to extend the life of home HVAC units
• Promoting optimal energy efficiency for reduced home energy costs
• Improving indoor air quality for a healthier, more comfortable home environment
DO-IT-YOURSELF
All SimpleAir® products are easy to use and are labeled with a do-it-yourself scale, identifying the level of HVAC knowledge needed to properly apply or install the product. Step-by-step instructions are provided for each item and our Customer Service line is available for added product support.

IMPORTANT DISCLAIMER
Many repairs and routine maintenance procedures can be easily handled without a professional service technician. However, if you are uncomfortable or unsure of any instructions, do not perform the procedure. Instead, contact the SimpleAir® Customer Service line at 1.855.342.3732 or your local service technician for assistance. If products are ingested, contact the Poison Control Center nearest you immediately.  
 
 
When using SimpleAir® products, ALWAYS refer to the step-by-step instructions for each product and these four safety tips.
1. Shut off all power sources. Please be sure to shut off all electrical power to the unit before you remove any access panels or attempt to perform any maintenance procedures. Always remember that there may be more than one power connection switch.
2. Watch out for sharp edges. Be aware and very careful when you handle parts or reach into units. Many of the metal parts and housings have very sharp edges, which can cause severe injury.
3. Follow all safety precautions. Follow all safety precautions suggested in the instruction sheets for each project.
4. Use common sense. If something seems dangerous, do not attempt the procedure. Instead, consult a professional.